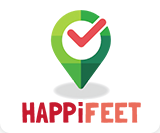 About HAPPi FEET
HAPPiFEET empowers parks and recreation agencies to address customer issues in real-time so they can KEEP HAPPiFEET...
because unhappy customers vote with their feet.
Users share via text, pictures or videos their experiences from any custom location. Agency staff receives and can respond to guests in real-time.
App dashboards allow agencies to track user feedback daily, weekly, annually or by any individual site in the system and use real-time data to meet and exceed community expectations.
Features
IT'S EASY & free
One touch process
for ages 2-102
Where's My Park?
Location based interface
shows sites closest to you first
Share Feedback
Type, snap or film feedback and
send it instantly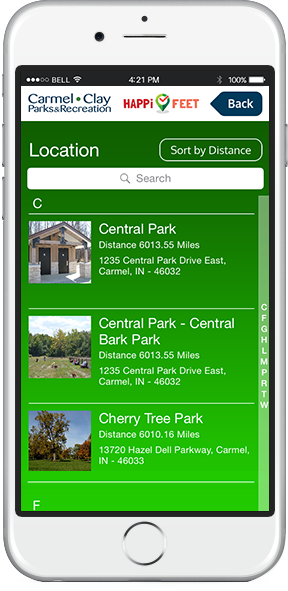 Custom Locations
Parks, trails, facilities customized
to your jurisdiction
Instant Notification
Agencies get instant email notification
with text, pictures & videos
Multi Platform
(Android / Ios)
Apple fan or Android lover, we've
got you covered
Testimonials
Our Activate ATL comprehensive master plan's public engagement was the most inclusive outreach effort the Department has ever undertaken. HAPPiFEETTM Atlanta Parks is one of the methods that reduced barriers to access and fostered a sense of community, belonging, and public ownership in the master planning process

John Dargle
Commissioner
Atlanta Department of Parks and Recreation

Using innovation to provide exceptional experiences has been a key ingredient to our success. HappiFeetTM will allow us to quickly identify and address issues reported by our customers in real time. It's fast and easy to use - and one more way to show our commitment to our customers.

Michael Klitzing
Director
Carmel Clay Parks & Recreation

HappiFeetTM provided us a multiplatform, smart phone solution to stay connected with our patrons. Real time feedback, location mapping, information sharing at the fingertips of our citizens. Not only can we respond quickly to concerns in our system (or acknowledge their compliments), we also have an additional platform to get the word out about our services, programs, and events.

Richard Garland
Parks and Recreation Director
Smyrna, GA

"We are always looking for new ways to utilize technology to engage with our customers. Thanks to the HAPPiFEETTM app, we will be able to receive instant feedback that will help us improve the services we provide to the community".

Greg Weitzel
(Former) Parks and Recreation Director
Idaho Falls, ID

"We chose HAPPiFEETTM so we could know and understand [quickly] what our customers are experiencing in our parks. Knowing the challenges and issues park users face and being able to respond quickly we feel will help make our park system even better".

Sean Fletcher
Director of
Kalamazoo Parks and Recreation
Contact Us
HAPPi FEET LLC
Carmel, Indiana USA